Words, photos and video by Andreas Baumann.
I've always wanted to go to Japan to experience the famous "Japow" and get to know more about the culture. My girlfriend and I booked the trip with Mint Tours, an Australian travel agency specialized in snowboard tours around the world. We already did an amazing trip with them in New Zealand, and the Onsen Tour in Japan was very tempting.
It was a backcountry hiking tour in Hokkaido hosted by Antti Autti and some riders of the famous Car Danchi crew, Shinya Nagakawa and Gaku Nagai. These Japanese legends are locals of the Asahikawa region and they know their backcountry like no one else. The rest of the crew was from Australia. We had a great time sharing experiences, riding powder together, and discovering the Japanese backcountry and culture.
I ended up riding the deepest snow of my life with such a great crew! The breath-taking landscapes were very different from Europe. They featured incredible tree runs, endless pillow lines, gnarly alpine terrain and playful gullies.
It was the perfect opportunity to try my Amplid Milligram splitboard in ideal conditions. We did about 4-5 ascents/descents a day and I was absolutely stoked about the performance of the Milligram. On most ascents, we experienced really deep snow, the lightweight construction of the board helped a lot to move forward quickly. For the descents, I can just say: this is the splitboard I wished for! Even in 3m deep snow, it was super floaty, the nose was never digging in, and it was very agile in the tree runs. It was so much fun and easy to do some butters and tricks on pillows with this playful, backcountry freestyle board.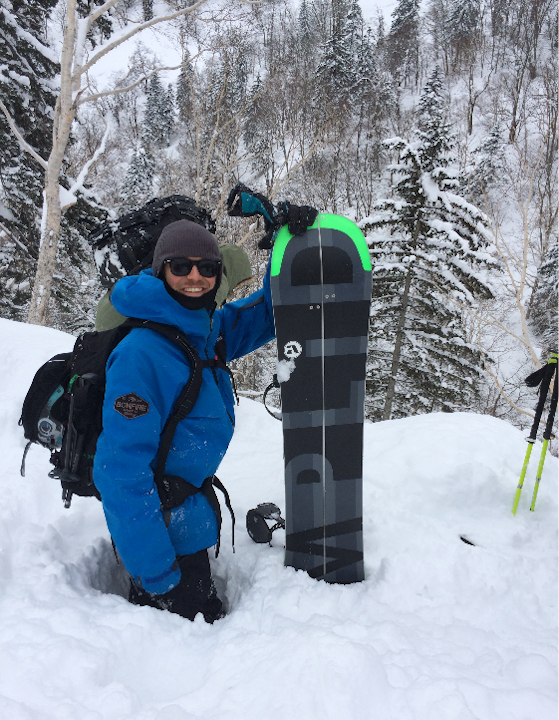 We also had a great experience of the Japanese culture. After a cold and exhausting day in the mountains, it was a pleasure to soak in the hot springs called "onsen". Good for body and soul, especially with a good local beer! Choosing the food was quite an adventure; picking something from the menu with no idea of what it might be. The Sushi, "Ramen" noodles, and hot pots were delicious. We also had a blast doing karaoke! No one was afraid to sing because we took the all-you- can-drink option.
It was without a doubt the best trip we have ever done. Now all we can think about is going back to Japan.
Find-out more about the Onsen Tour at Minttours.com